These pages will be used for information pertaining to the Celebration of the Classics 2010-11.
Website on Ovid's Metamorphoses
Plates from the 1703 text: http://www.uvm.edu/~hag/ovid/baur1703/baur1703b1.html
The class text and project this year is Ovid's Metamorphoses. As the project gets closer, all information will be found here. Grades 6-12 will find all art project information here.
www.vroma.org/images/bonvallet_images/index3.html (lots of mythological pictures)
gallica.bnf.fr/scripts/Notice.php?O=08100128
www.latein-pagina.de/ovid/ovid_m10.htm
people2.hsc.edu/.../chapter_4/chapter_4.shtm
www.uvm.edu/~classics/ambrose/clas42art5.html
All woodcut images of Ovid's Metamorphoses
Engraving from Choix de metamorphoses by Jean-Baptiste Huet, Paris, Marcilly, 1801.
Illustration from a 1562 Edition by Virgil Solis
<![if !vml]>
<![endif]>
Regius Woodcut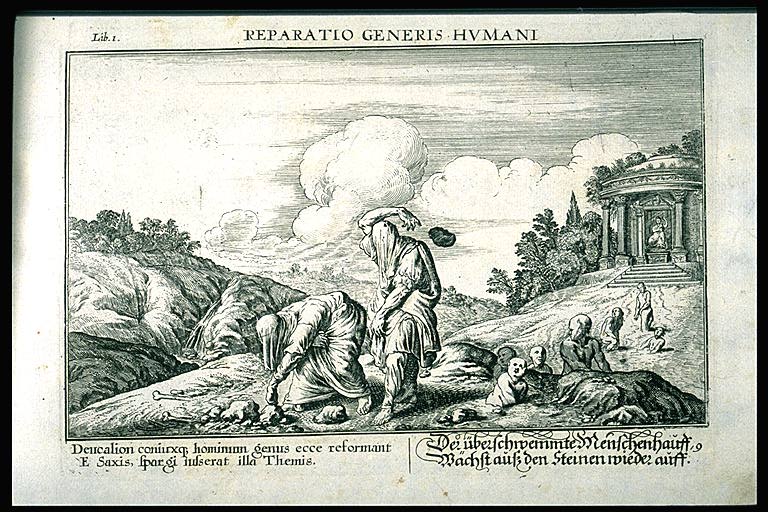 Flood: Deucalion and Pyrrha: photo of where their boat first touched ground after the flood (Mt. Parnassos) and where the flood waters were said to have drained out in to the earth (in Athens). Here is a woodcut from an illustrated Ovid from the 17th century illustrating this myth
Deucalion et Pyrrha
Oraza Fontana ou son atelier, 1565-71
Los Angeles, J. Paul Getty Museum
http://www.vroma.org/images/bonvallet_images/bonvall118.jpg
aardewerk uit Urbino, ItaliŽ, ca 1570
The children of Deucalion and Pyrhha are:
Hellen, Thyia, Pandora II (?), Protogeneia, and the Leleges.
This map shows the areas associated with all their descendants
except for those of Protogeneia.

Apollo and Daphne The Apollo and Daphne Raphael Regius
1744-45 1622-1625,
Giovanni Battista Tiepolo Bernini
Musťe du Louvre, Paris

painting Paolodi Matteis, c. 1700 The Master of the Die (Italian, fl. 1532-33),
Madison (University of Wisconsin), Elvehjem Museum. Apollo pursuing Daphne (Bartsch XV.20ii).
Credits: Susan Bonvallet, 2001. Engraving after Giulio Romano, c. 1532.
From the suite of four "Daphne and Apollo" engravings.
The Master of the Die was active in Rome and engraved
a number of works after Raphael and other members of his studio.